MULTI-CALIBER • AMBIDEXTROUS • TOOL FREE • ½ MOA ACCURACY • RETURN TO ZERO • DISCREET CARRY – FINALLY A SURVIVAL RIFLE FOR THE REAL WORLD!
The Nemesis Arms LMR finally delivers on the decades old promise of the so-called survival rifle. Unlike the low quality, gimmicky rimfire platforms that defined the class, the LMR is the true survival rifle for big boys. Large caliber, precise and rugged, LMR is in a class all its own. It's the perfect travel companion for boaters, private aviation, campers and explorers. The Nemesis LMR is ready for action at a moment's notice.
As a hunting platform, it is without equal. The patented ambidexterity ensures that an outing with a left and right-handed shooter doesn't require a special rifle or require one shooter to adapt to off-hand techniques. The tool-free caliber change means switching the power level to match the game is simple, reliable and require only the appropriate barrels.
As a tactical platform the LMR benefits from unrivaled modularity allowing for discreet stowage and ease of access even in the most difficult environments.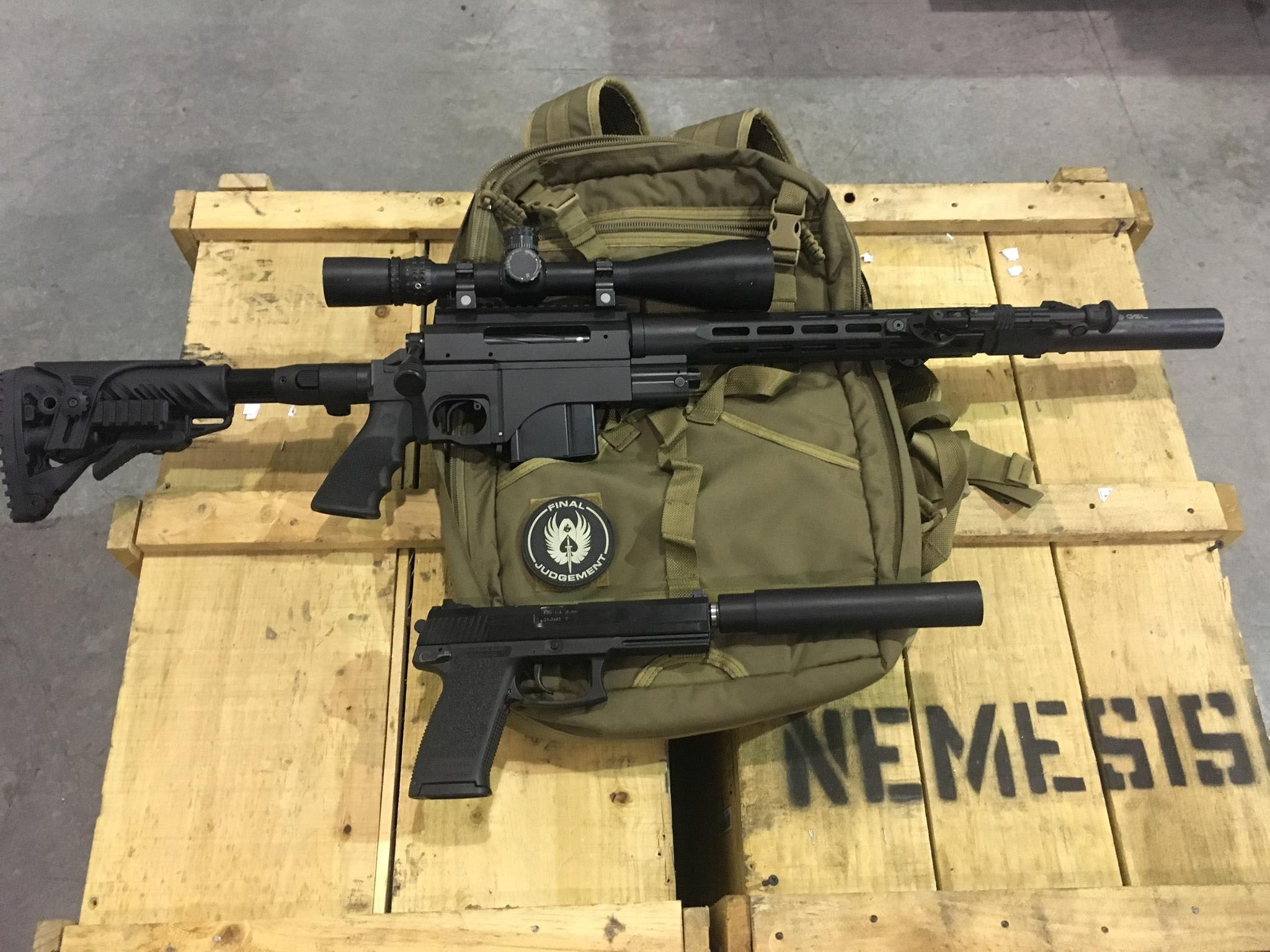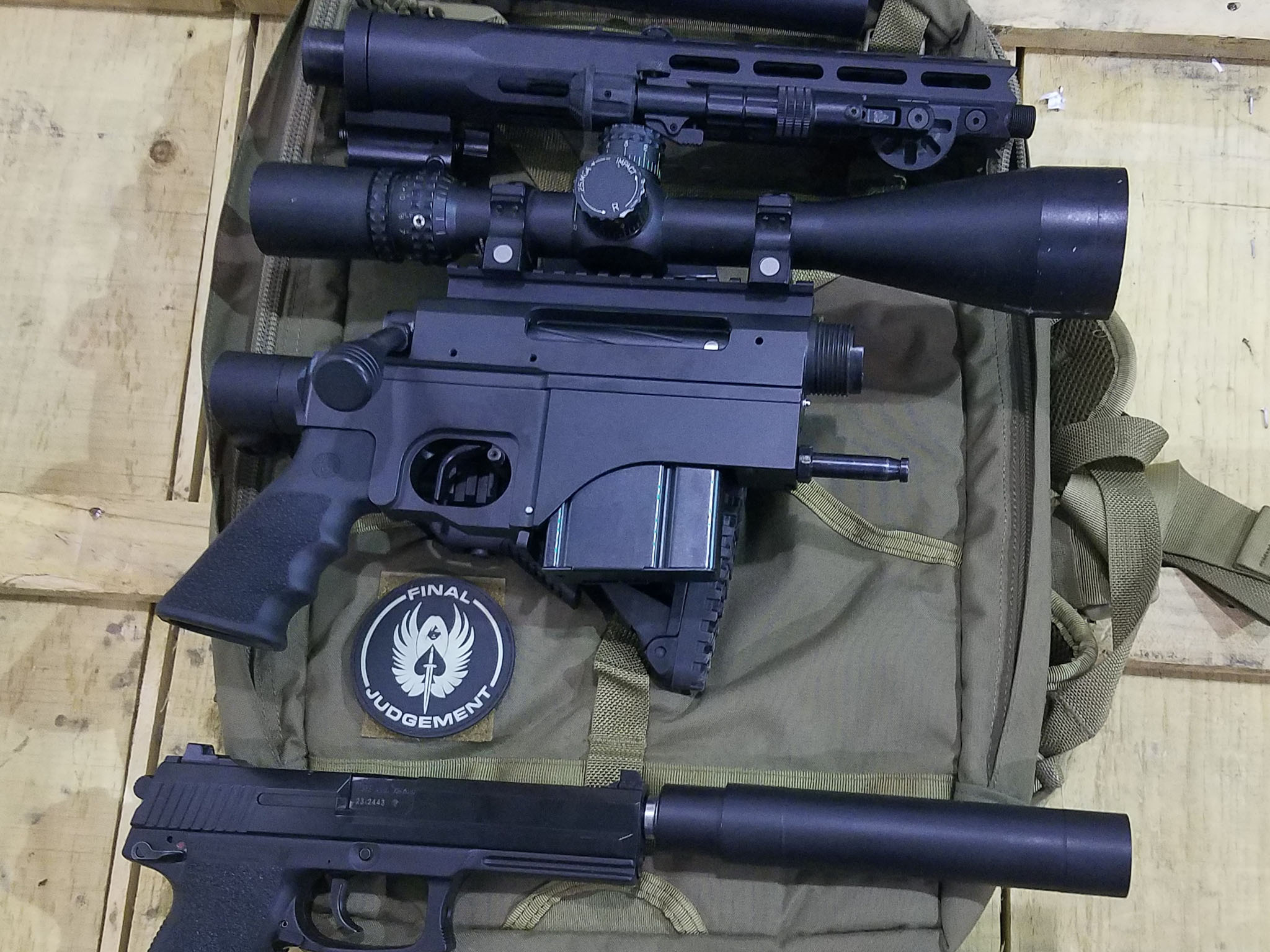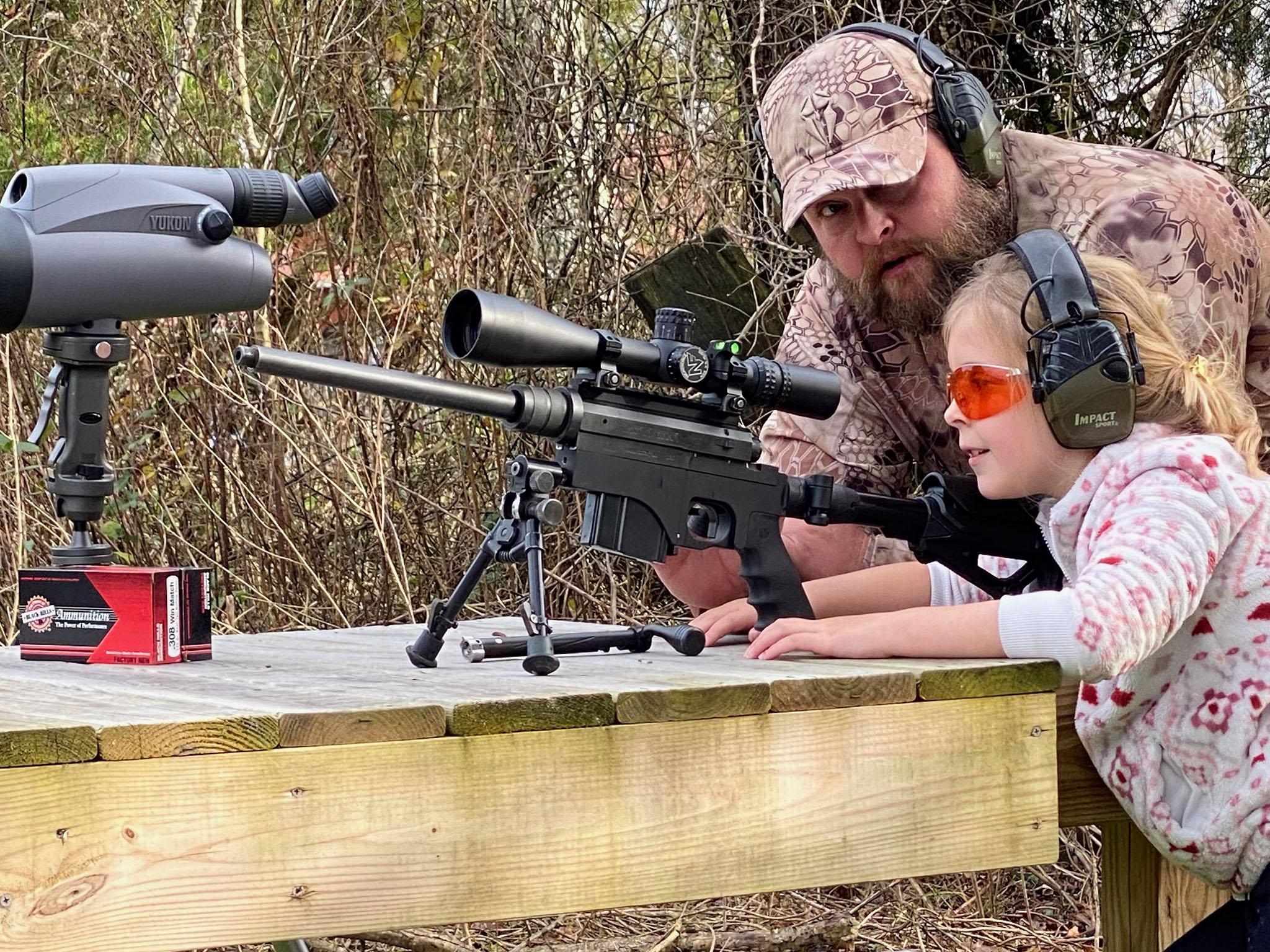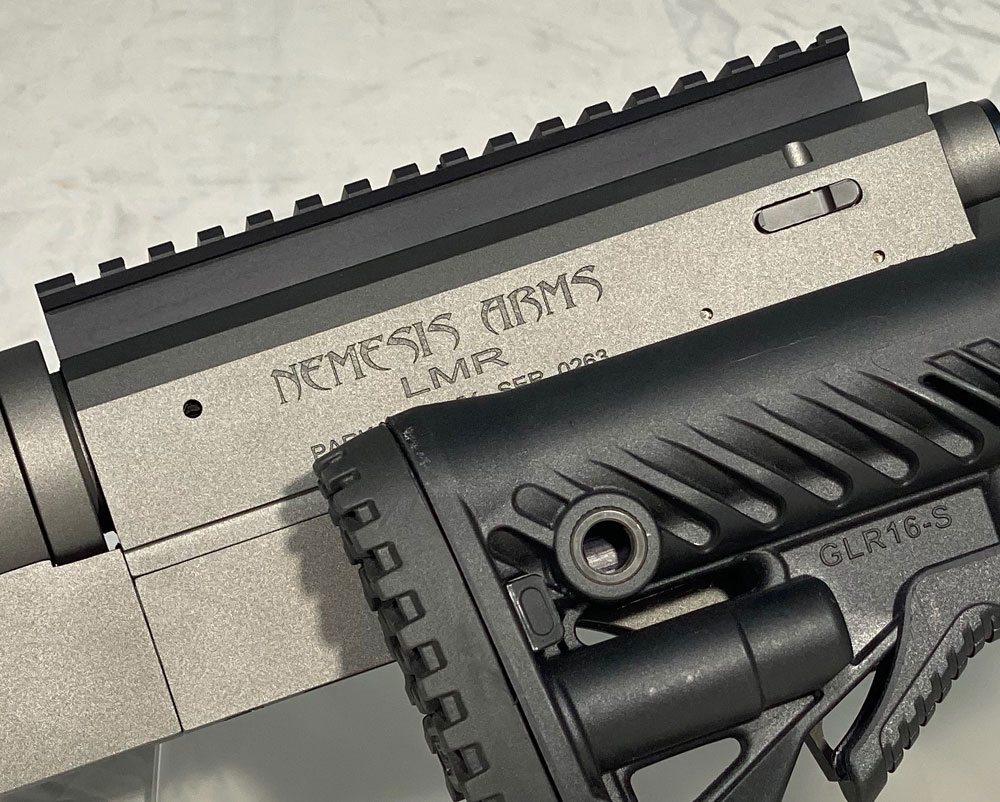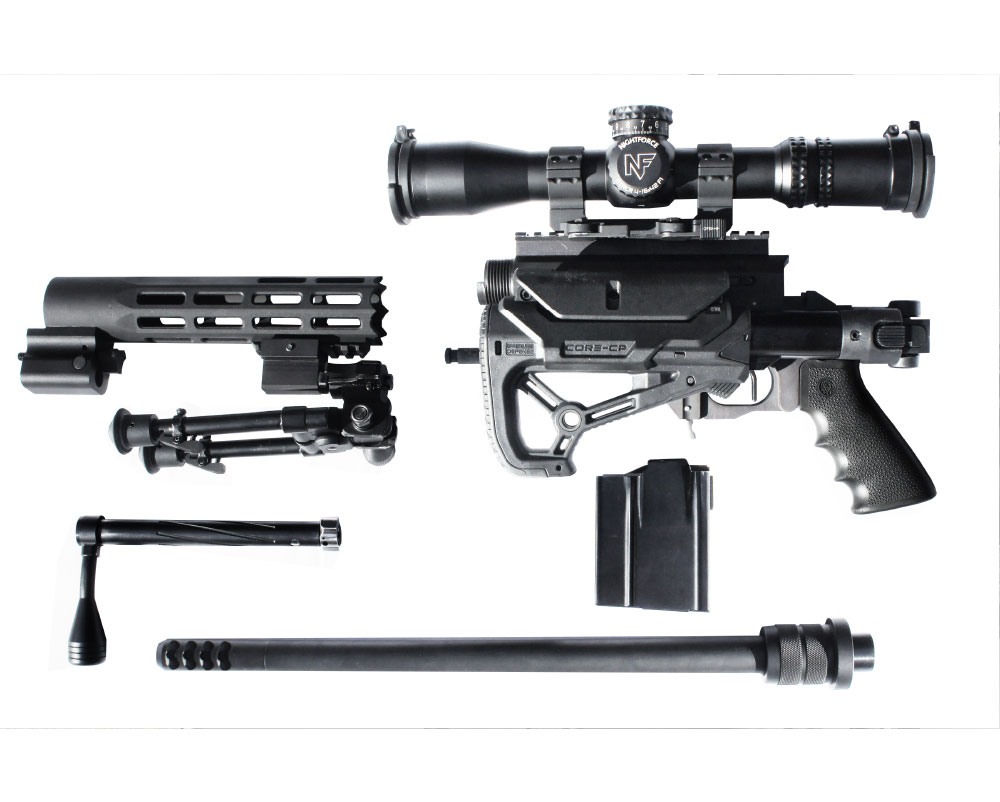 STOW-AND-GO FOLDER – Full featured folding stock not only allows for ease of maneuverability, but also enhances stowing ability.
ADJUSTABLE STOCK – Our purpose-built six-position stock allows rapid deployment and length-of-pull and comb height to fit any shooter.
INTEGRATED OPTICS RAIL – Ready for the optic of your choice, the rail is integral to the receiver and helps ensure the rifle's return-to-zero ability.
FLUTED MATCH BARREL – Exquisite harmonics in a heavy profile, fluted design ensure high levels of shot-to-shot consistency. 5/8 X 24 threads.
M-LOK FOREND – Allows easy attachment of an unlimited range of mission essential optics, night vision, thermals, bipods, lights, lasers, etc.
DISCREET STOW AND CARRY – Like all Nemesis Arms rifles, the LMR is designed to quickly take down and pack into our hard cases, back pack or your own.
PATENTED AMBIDEXTERITY – All Nemesis rifles are built for ambidextrous operation. This is a game changer for training, purchasing and tactical flexibility
ERGONOMIC CONTROLS – Mag release, safety selector, and trigger are all in one place to permit rapid and smooth operation even with heavy gloves.
ULTRA-SMOOTH BOLT PATH – Our wire EDM process is simply without peer. Highly refined tolerances and path geometry means no binding, chatter or hesitation.
10 ROUND AI PATTERN MAGS – All-metal and built to last, our AI pattern magazines ensure smooth feeding of the rifle regardless of caliber or operating environment.
TOOL-FREE TAKEDOWN – Unrivaled in the precision rifle world, all Nemesis rifles feature tool-free breakdown, eliminating the liability of specialized gear.
MULTI-CALIBER ADAPTABILITY – For the hunt, the expedition or the crisis, LMR is available in a variety of capable calibers to tackle any situation with an authority
ADVANCED FINISHINGS – Our metal treatments use industry-leading methods to ensure that your rifle is ready at the molecular level for whatever may come.
NEMESIS ARMS LMR PHYSICAL SPECIFICATIONS

LENGTH: 34.75 in / 88.27 cm (Folded 26.25 in / 66.68 cm)
WEIGHT: 10 lbs / 4.5 Kg (With 16 in Barrel)
CALIBERS: .243 Winchester, 6.5 Creedmoor, .308 Winchester
BARREL LENGTH: 16 in / 40.64 cm; 20 in / 50.8 cm
RECEIVER: Ambidextrous with right- and left-hand bolt capabilities in a single steel machined 2 lug action
FEED SYSTEM: AI pattern detachable box magazine
TRIGGER: 3 lb Single Stage Adjustable Timney with Bottom Safety
EFFECTIVE RANGE: +/- 1,000 M
SIGHTS: Optics-Ready, Does not include sights.
ASK US ABOUT CUSTOM CERAKOTE!